Revolgy achieves AWS Migration Competency Status
Tereza Grill
January 9, 2023
Revolgy announced today that it has achieved Amazon Web Services (AWS) Migration Competency status. This global designation recognises that Revolgy provides excellent cloud migration services and deep expertise in innovation through cloud technologies to help customers move successfully to AWS, through all phases of complex migration projects.
Achieving the AWS Migration Competency differentiates Revolgy as an AWS Partner that provides specialised demonstrated technical proficiency and proven customer success with a specific focus on Migration Delivery, and Migration Consulting. This status puts Revolgy among 70 companies in the EMEA region that provide migrations with the necessary expertise and experience.
"Revolgy is proud to have earned the AWS Migration Competency Status. The agility, breadth of services, and pace of innovation that AWS offers are necessary to fulfil our vision and value proposition," says Miroslav Vlasák, CEO at Revolgy.
Revolgy regularly guides customers through all Migration phases - discovery, planning, migration and smooth operations. To receive the designation, AWS Partners must possess deep AWS expertise and deliver solutions seamlessly on AWS.
"As a strategic partner for our customers, our team's focus is to help businesses succeed in their digital transformation projects. This competency is an endorsement of our ability to plan and execute cloud migrations for customers across sectors and stages of maturity", says Miroslav Vlasák, CEO at Revolgy.
Revolgy migrated dozens of companies from various sectors to AWS and accelerated their growth with the cloud environment.
"Migration was a success. Our developers barely noticed that they are working in a different location, on a public Cloud," says Ladislav Novák, CTO at Jablotron Cloud Services.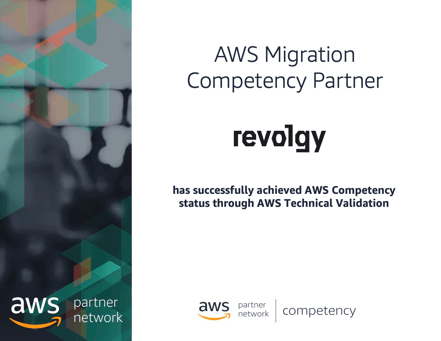 Revolgy team of certified architects and engineers provides cloud services for startups, SMBs as well as corporates around the world.
AWS is enabling scalable, flexible, and cost-effective solutions from startups to global enterprises. To support the seamless integration and deployment of these solutions, AWS established the AWS Competency Program to help customers identify AWS Partners with deep industry experience and expertise.
About Revolgy
Revolgy is a leading Czech-based company providing digital transformation services through cloud infrastructure (AWS, Google Cloud) and online collaboration tools. The mission of the company is to drive business growth by simplifying the way companies work with information technology. Revolgy offers its customers award-winning professional services such as implementing cloud solutions, designing cloud infrastructure architecture, technical support and powerful adoption workshops. Revolgy's story began in 1996 as a provider of services for network infrastructure and online storage. Nowadays, Revolgy has over 2,000 customers around Europe. Revolgy is going through hyper-growth fuelled by demand from customers such as - Barnebys, 3Bohemians, Kistler, Adler, Innogy, Jablotron or Purple Technology. Revolgy also hosts the podcast "Cloud Do You Do?" for the tech and cloud-native community to share know-how about cloud technologies.
Contact information for press: Tereza Grill, ter@revolgy.com, +420 739 760 169