The Game Changer for 3Bohemians
3BOHEMIANS create virtual worlds with digital stories since 2006. They are an animation production company from the Czech Republic working on projects from the first idea to the final detail. They provide high-end character animation services for any type of digital products TV commercials, branded short films, TV series, feature films, video game cinematics and other formats. 3BOHEMIANS also operates an animation school called ANOMALIA.
Problem definition
When a medium-sized independent company signs a deal with a major AAA gaming studio to take part in the development of their new game it's a one-in-a-lifetime opportunity for their business, but also one hell of a challenge for their IT. Working closely with top creative talents from 3Bohemians and gathering valuable insights from the mentors from Disney and Pixar, together we designed The Game Changer - a secure environment in the cloud where 3D artists can collaborate and cooperate with no limitations put on the computing power or the location where they work. The gaming industry is extremely sensitive when it comes to data security and puts huge demands on the computing power of the machines 3D designers work on.
A tough nut to crack
Such was the case when they got an offer from one of the biggest AAA game development studios to design 3D characters for their new blockbuster game. The team was extremely excited, but needed to figure out how to comply with the requirements of the deal, which were:
Data security
3Bohemians needed their own data storage, secured physically at the location where the creative team is actually present. With the amount of storage needed for a project of this size, and the creative team being spread across the Globe it was impossible to comply with this requirement using on-premises servers.
"When you want to work with the best talents, you don't care where they are located. We aim to employ top-notch animation artists who reside in the United Kingdom, New Zealand, India and even Israel. To gather them in the same location for the purpose of a single project was not an option."

David Toušek - Founder at 3Bohemians
Computing power
A creative designer working on a 3D project needs a very powerful graphic workstation, which he normally has at home as his desktop computer. But to work on digital assets used in a project such as this one, means he would have to download those assets. And that would be a breach of basic security in itself.
There would also be issues with the efficiency of the transfer. There are a lot of files, hundreds of thousands of terabytes of data. Continuous downloading would significantly slow down their work, and also made it close to impossible to collaborate on the project.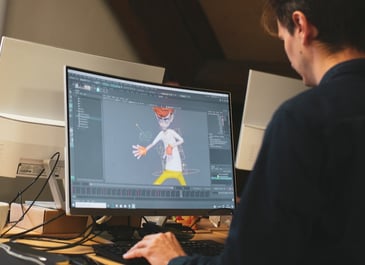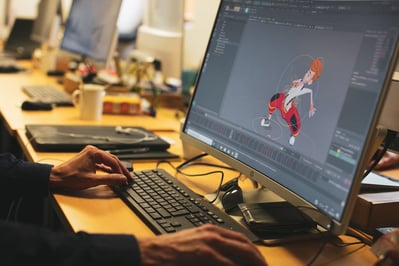 Levelling up their game
Except for their production studio, 3BOHEMIANS also operates an animation school called ANOMALIA. It's a unique animation and games development incubator and professional skills training hub on a worldwide level of quality, where the biggest talents working for Pixar, Disney, Dreamworks, Laika, Aardman and other animation studios mentor other animation artists to boost their survival on the talent and content market. Some of these mentors have a strong background in technology. When the team of 3BOHEMIANS reached out to them asking for advice, the animation gurus inspired them with a thought that it should be technically possible to move the entire setup of their studio to the Cloud.
But 3BOHEMIANS still needed IT experts to advice and implement how exactly they are supposed to do it from the technical point of view. This is where Revolgy entered the playing field with our Cloud expertise and expanded the idea even further.
We called the project "The Game Changer".
When creativity meets the technology
The Game Changer is a beautiful example of what can be achieved when experts from different industries use their creativity and technological expertise to achieve a common goal. Working closely with top creative talents from 3BOHEMIANS and gathering valuable insights from the mentors from ANOMALIA, together we designed the GameChanger - a secure environment in the cloud where 3D artists can collaborate and cooperate with no limitations put on the computing power or the location where they work.
Now all that was needed was to prove that the concept works and can be used for this particular project. We rolled up our sleeves and together with the team of 3Bohemians started testing all possible scenarios to fine-tune the final solution.
As part of this 4-month project, the whole ecosystem was migrated with proper backup and disaster recovery. Achieving such a comprehensive and fundamental change came with its challenges that the two teams tackled within a professional and fruitful cooperation, strengthening their relationship and improving their processes for the next iterations.
How does the technology work?
The gist of the technology is the use of suitable types of instances in the Cloud that contain GPUs. We used those instances to build virtual desktops/workstations in the cloud that are powerful enough to cover the needs of even the most complex graphics tasks.
"The ultimate test was to try to trick the 3D artists and let them guess whether they are working on their own computer or a virtual desktop. They couldn't tell the difference!"

Jan Sechovec - VP of product at Revolgy
The first challenge was to deliver the picture from this remote desktop in the cloud to the 3D artist in real-time. In order for the artist to be able to work comfortably, the latency of streaming between a virtual machine and his own computer couldn't exceed 25ms. We tested different streaming tools for this purpose including Teradici, Parsec and NiceDCV protocol combining them with different availability zones to achieve the lowest possible latency.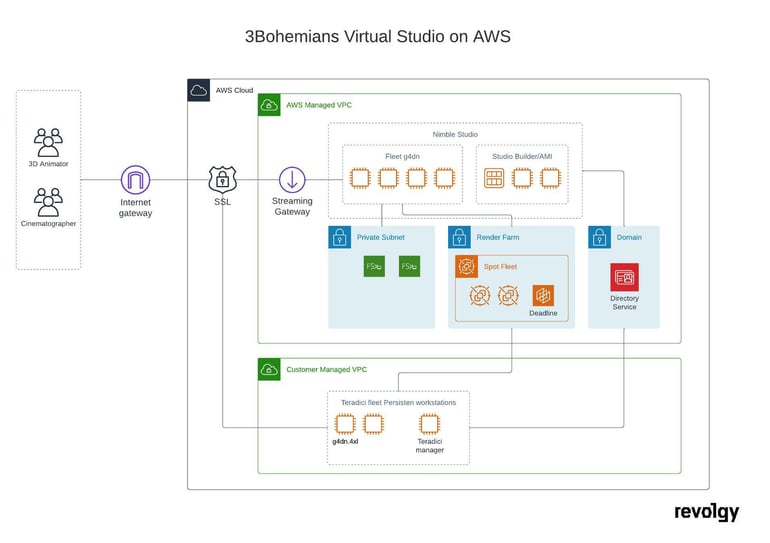 Initially, 3D creatives were extremely sceptical. They couldn't possibly imagine working on graphics-heavy tasks on a remote desktop in the cloud. But with some fine-tuning, we managed to successfully configure the tools in a way that the users couldn't feel any latency at all when working on their virtual workstations.
"I can't believe I'm saying this, but I honestly think this is even faster than my own computer"

Juan - 3D artist at 3Bohemians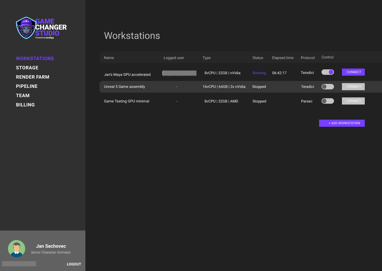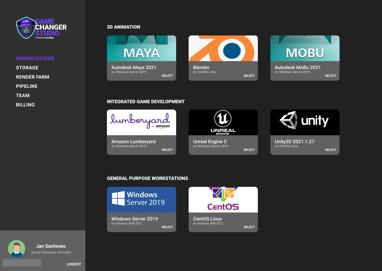 What we learned during the testing
Each of the streaming tools proved to be the most efficient in different types of tasks. Where Teradici excels in colour accuracy and response, Parsec was more effective in tasks requiring fluency of picture and synchronisation of speech. This is why Teradici is better suited for creative work and production, and Parsec is better suited for game testing.
For everyday tasks where no high performance is needed, the NiceDCV protocol can be used with great success. This can include tasks such as working with files, admin tasks, studying the material, etc. In our Game Changer solution, the user decides what type of workstation he needs for what kind of work. This is also later reflected in the price of the cloud resources used.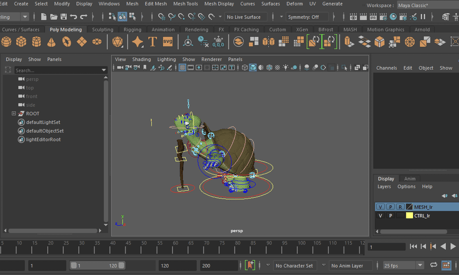 I have just made test, it seems really good, I have just added a few keys on cube but the frame rate is over 400fps. Don't think that not even on Maya directly on my machine I have ever seen that frame rate. It is really responsive, I am suprised.

User testing feedback
+1000 creativity and productivity points
Cloud environment opened up a brand new world for 3Bohemians as well as the major AAA studio they work with. The 3D artists can work wherever they are and the studio doesn't have to limit themselves to the local pool of talent available. The entire creative studio is securely locked in the cloud, in one place, on a platform that is compliant with the strictest industry regulations.
There are no limits on the computing power and resources either. In the cloud, they have all the resources they need available with one click and they can easily scale them up or down depending on their current needs. They only pay for the computing resources they actually use, so the cost stays optimised. There's no need to set up an expensive data centre and no need for any IT department whatsoever. They don't have to invest in office space, buy huge servers ahead of time and then let them sit and rust when they don't need them. They have all the computing power they need available at once, whenever they need it. Whether they use it just for an hour or for a year, they will only pay for what they actually use.
"Understandably, high-performance isn't free. One has to realise though, the incredible elasticity that it brings to the business. I changed CAPEX to OPEX. I don't have to invest in technology anymore. Cloud resources become an operating expense. And because Game Changer by Revolgy can be delivered as a managed service I don't need to have an IT department at all which makes my life way easier"

David Toušek - Founder at 3Bohemians
Having all the data in one place brings another huge benefit. Now, the entire workflow can be orchestrated very sophisticatedly. The artist not only has powerful graphics he also has the entire pipeline of the creative process at his disposal. From version control or project data, through rendering farms that extend to unlimited rendering power right down to the entire CI/CD flow.
You can render something for 1000 minutes on one machine or for one minute on thousands of machines. The cloud makes it possible with the snap of a finger. This makes the work really fluent and integral"

Jan Sechovec - VP of product at Revolgy
Turnkey, secure creative studio templates
The result of the project brought an unexpected benefit to the mother company as well. The AAA game development studio regularly needs to connect smaller vendors to their infrastructure. Typically it's at least a month-long process that includes security screening, connecting the smaller studio securely via VPN, helping them configure their workflow to comply with the corporate policies.
Now, The Game Changer Virtual Game Studio has templates of graphic stations, which contain a pre-prepared pipeline of work with the source code and pre-prepared creative tools and game engines. The entire solution is then configured and ready to use within only a few hours and operated by Revolgy as a managed service. This will significantly propel the speed of development of their new blockbusters.
If you'd like to discuss how Revolgy can change the game for your business don't hesitate to get in touch.
---