Success Story - Creating your own opportunities

Tereza Hrdinová
February 1, 2023
Berna began her journey as a determined intern and worked her way up to become the People Success Manager at Revolgy. I recently sat down with her to discuss a topic that is essential for anyone looking to achieve success in their career – how to create your own opportunities and build your own path to success. Whether you're just starting out in your career or looking to take your professional journey to the next level, this interview is full of valuable insights that you won't want to miss.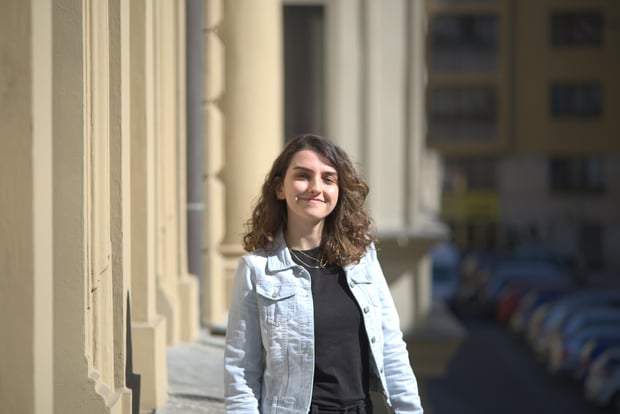 How did you become an intern at Revolgy, since Revolgy doesn't offer an internship program? And what made you choose Revolgy in the first place?
As a Master's student, completing the mandatory internship was crucial to my graduation. However, being an international student, I was not able to apply for existing internship programs because of the language barrier. I must say that I'm a persistent person. One day I was scrolling through a Czech job portal to list English-speaking companies, and that's when I stumbled upon Revolgy. I believe an HR manager can learn a lot from IT nowadays, so I was intrigued.
After diving deeper into the company webpage and even stalking the employees' on LinkedIn ( 🤫), I was captivated by their ethos. I fell in love with the continuous improvement mindset. People seemed very positive and nice, and unlike other Czech companies, the team was multicultural. It was a heavenly combination for a foreign student that was hungry for knowledge.
Without hesitation, I reached out to the People Success team, expressing my motivation and eagerness to contribute to the business. And here I am today, grateful for the opportunity to be part of such a fantastic team 🙂
And how did you become a Revolgian from being an intern?
I think the most important factor was the shared vision and mindset that the People Success team and I had from the very beginning. This made our cooperation very smooth and satisfying.
Throughout my time as an intern, I was never hesitant to speak up and contribute my ideas during team meetings. Rather than feeling shy or insignificant (which is usually how interns feel at traditional companies), I felt empowered to share my opinions as the team always listened, trusted me with building processes, and genuinely appreciated my input. I think this level of collaboration and trust was not only valuable for me but also for the company. As a result, I was offered a full-time job upon graduation.
By the time I graduated, I knew that this was the place I wanted to work at. Despite having other job offers on the table, the decision was an easy one to make. The opportunity to work in an international and friendly team with a remote-first and flexible culture, where my ideas were valued and my contributions were meaningful was too compelling to pass up.
How has your role evolved over time since you've been here?
I started as a Talent Acquisition Associate, where I was responsible for hiring and employer branding. Earlier this year, I've taken the People Success Manager role as well. Now, in addition to talent acquisition and employer branding, I oversee HR matters for Revolgy on both strategic and operational levels under the supervision and mentorship of our company founder, Bob Dohnal.
I look forward to the rest of this amazing journey and when the time is right, I'll be ready to take on different responsibilities and more challenges.
Do you have any advice for those who would like to choose the same career path as you did?
Yes, I have some advice for everyone, not just for those who pursue a career in HR.

Don't be afraid to ask – This attitude helped me change my life in many situations. Things will never easily fall into your lap. You have to learn how to ask people what you want. I realized that most people are willing to help others, but they just don't know how to do so, or they simply don't know you need (or want) this thing.

Be brave – Do it even if you are scared, because you'll never be prepared for it. Even better, do it especially when you are scared. That is the best way to get out of your comfort zone and make something significant.
Surround yourself with different people – It might sound cliche, but try to get out of your bubble and meet new people to gain new perspectives. Everyone will teach you something different regardless of their age, status, education level, or interests. Remember to share your experiences and knowledge with others as well. One's achievements only make sense when they guide others.

Be consistent – Never stop improving yourself. Set goals, develop a routine, track your process, learn from your mistakes, and celebrate your successes. This will help you stay focused and have a purpose.

Take care of yourself – I admit this is something I'm still learning, but prioritize yourself. Health is the only thing that matters, and work isn't worth ruining your health. Set boundaries, take breaks, learn to manage stress, don't beat yourself up for failures, and don't hesitate to ​​seek support if you need it.