Success Story - Embracing fresh challenges and lifelong friendships

Tereza Hrdinová
January 12, 2023
Štěpán views Revolgy as more than just a workplace; it is a platform for discovering new experiences, embracing fresh challenges, and cultivating lifelong friendships. Over the past five years, he has played an integral role in the company, and during this time, he has developed both professionally and personally. In fact, he and his family even relocated to Estonia, a decision made possible by the opportunities presented to him by Revolgy.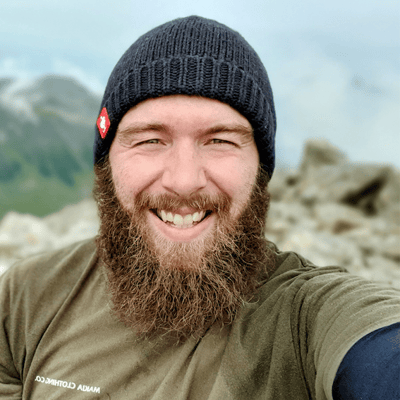 Could you share your journey at Revolgy, and outline the steps you took before assuming the role of Chief Sales Officer?
Recently, I celebrated five years at Revolgy. I joined as an Account Executive, so basically a sales representative focusing on the Czech and Slovak market. Back when I started, it was quite a small team, just me and two other guys.
Later I switched to another position. Revolgy did a small experiment of having a full-stack team. Basically, different teams focused on different services. I was responsible for leading the so-called Cloud Native team and delivering the deals, and three other guys were providing the technical consultations and technical work.
So you were also in the lead position there. Did you intentionally pursue being in a lead position at Revolgy?
I'd say it just happened. I don't think it was my dream from day one to be the team leader or any kind of a C-level position.
Our CEO Miro offered me the position of Chief Sales Officer once before. However, at that time, I didn't feel like I was ready to be in that role, rather I felt like there were still a lot of things I needed to learn first. So I didn't accept the offer.
The second time the same position was offered to me after one year, I felt ready, Miro supported me and I was like "Let's make sure you really are ready". These two stages were necessary for me to go through before I actually started in this position.
Can you tell us more about your current position at Revolgy?
In January this year, I switched to the Cloud Services lead role, which is somewhere between a Product Manager and Value Proposition role. Right now, I sit in the middle of multiple teams and my responsibility is to coordinate the cooperation across teams to make sure that we meet the financial and strategic goals.
It's a little different from what I did before but I enjoy it. I don't have one team and actually, right now, my team is almost all of Revolgy. I need to work with everybody.
At what point in your career did you relocate from the Czech Republic to Estonia, where do you currently reside?
It actually happened quite early on, about one and a half years after I joined Revolgy. Miro and I wanted to be more active in the Baltics market because we saw good traction there with the existing customers.
Initially, we were trying to find someone local but, at that time, we weren't a remote-first company. We weren't able to find any good candidate who would cover the Baltics market. I remember Miro and I having a discussion, and as he is always very open and to the point, he asked, "What about you? Would you like to move there?" At that point, I replied, "Well, I don't know."
I never thought about it before, but I did like Estonia as I had been there a couple of times before. I went home and discussed it with my wife. At that time, we had a two-year-old daughter. It's actually quite funny as it was just getting close to the end of our rental contract. We wanted to move to a bigger apartment anyway so we were like, "Okay, we can find something in Tallinn. It's worth a try."
It was a very quick decision. In about two, three months we packed ourselves into two suitcases and moved to Tallinn. It's been a nice experience, and I'm super glad that it actually happened thanks to Revolgy. And you know, right now we are here, and it might be a bit cheeky, but it's completely changed our lives.
Throughout the process of relocating, did you feel that Revolgy provided you with enough support?
I was definitely supported in all the legal aspects, for example, how to get my salary paid in euros. We officially had to open a branch in Estonia, even though at first, it was only for me, and now we have a few more employees here.
It's been great and I'm super happy that Revolgy did it only for me at the beginning. We knew that the Baltics is a great region for us with a lot of great customers and opportunities. I felt the support from the first day and no one doubted the decision. I think it was a smart move to go to the Baltics, because now we have a lot of big customers here, such as Bolt and Wise. And our presence is still growing, so I think it's good to be here.
How would you describe the culture at Revolgy?
A lot of people say that the best thing in Revolgy are the people and I fully agree with it. First of all, there are a lot of very smart people. It's very inspiring to work with them and there are many people from whom I'm able to learn or who can teach me something new. Plus, there are a lot of people who are eager to improve and grow.
I think it's not that usual, but I have a lot of actual friends here in the company. It's both the professional aspect and personal life. The people here are like a family, and I would say it's quite unique.
And one more thing. We are in a very fast-growing industry and the world of the cloud changes every day. There are tons of new products, and new customers are jumping onto the cloud journey. So there are a lot of changes and new opportunities.
Working at Revolgy is not monotone. There are a lot of opportunities to try something new, to try a new customer segment, new technology. You may fail but you've tried something new. Every day is like a new adventure. I think there probably aren't that many companies like us, and I would say it is definitely something special.
You work from Tallinn, how do you make friends remotely?
Even though we are a remote company, I think we still have a lot of opportunities to meet in person. This kind of closer connection is very difficult to create remotely, but as I see from my experience, it's not a problem to maintain it.
If you want to be a remote company and you want to create this culture of friendship and close relationships, I think the only way is to have a possibility to meet in person. To me, the aspect of personal meetings is super important.
One last question, do you have any advice for those who are thinking of joining Revolgy?
Well, just join us. We have a lot of open positions, so don't be afraid. The willingness to learn new things and your interest in trying something new, even if you are not from the cloud industry, is the most important thing.
You have to be willing to do something, and make an impact. If you expect to get here and have everything ready for you with all the tasks from your manager, it will not be a good place for you. On the other hand, if you are willing to be more in charge and bring your ideas to the table and improve yourself, I think you will find it a great place.