Google Cloud Next 2022 Highlights
Tereza Grill
October 17, 2022
Google Cloud Next 2022 was held from 11 to 13 October. We were invited to Google offices in Stockholm to watch the opening keynote and discuss announced news with Google Cloud teams, because we want to be able to implement the news for our customers as soon and as fast as possible.
As a Google Cloud Premier Partner and Breakthrough Partner of the Year, we were excited for the Next '22 event and how we can take our customers to the next level with fresh announcements. With global markets rapidly changing and customers expecting unpredictable, all companies need to make sure they are prepared for tomorrow by making the right decisions today. And we want the same for our customers!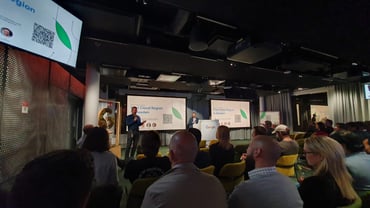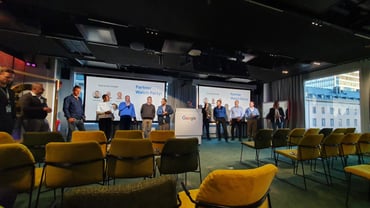 Google Cloud Next 2022 was in the theme of simplifying all of the technology by making it accessible, easy, open and also secure. Data and AI are transforming everything around us, and open, connected ecosystems are essential to everything we do.
The world no longer relies on the certainties of the office; companies want flexibility, the ability to change course, to respond quickly to today's challenges, and to have all the technology and products available to do so - instantly. The technologies that Google Cloud brings and develops allow businesses to grow and simplify our work and personal lives.
The new offerings further elevate Google Cloud's strategy around data analytics, artificial intelligence, machine learning, data storage and cybersecurity.
Here is our summary with what's next and new:
BigQuery support for unstructured data, Apache Spark and Datastream
The company launched the support for unstructured data in BigQuery to expand the ability of people to work with all types of data. Data teams can analyse structured and unstructured data with easy access to Google Cloud's capabilities in machine learning, speech recognition, computer vision, translation, and text processing, using BigQuery's familiar SQL interface.
They also unify BigQuery and its operational databases. Datastream for BigQuery helps customers replicate data from AlloyDB, PostgreSQL, MySQL, and Oracle directly into BigQuery to make sure applications have the latest information. Google Cloud also announced BigQuery preview of an integrated experience for Apache Spark, which is a top open-source analytics engine for large data processing. The move will enable data practitioners to create BigQuery stored procedures using Spark that integrate with their SQL pipelines.
Google Workspace extended ecosystem with partners
Google Cloud opens its smart chips to ecosystem partners to allow users to view and engage with third-party data in the flow of work rather than switching tabs or context. They created new APIs for Chat & Meet aimed at providing developers access to common functions like starting meetings or initiating messages from a third-party application, starting with partners Asana and LumApps.
Google also built a new add-on SDK for Meet which lets developers embed their app directly into the Meet experience. Figma is the first add-on partner enabling teams to collaborate on Figma design and FigJam digital whiteboards directly in Google Meet. Partners such as AODocs, Atlassian, Asana, Miro, and Tableau are already building integrations.
Chronicle Security Operations
Google Cloud unveiled its new Chronicle Security Operations - a software suite that better enables cybersecurity teams to detect, investigate, and respond to threats. The software suite unifies Chronicle's security information and event management (SIEM) technology, with the security orchestration, automation, and response (SOAR) solutions from the company's Siemplify acquisition this year and threat intelligence from Google Cloud.
New Google Cloud regions
Google Cloud has been spending billions each year on building new data centres across the globe to accommodate the growing demand for its cloud services and infrastructure. They will build new cloud regions in six countries: Austria, Czech Republic, Greece, Norway, South Africa, and Sweden. The six new Google Cloud regions will bring the company's global network to 49 live and pending regions. In August 2022, the company also shared plans to add cloud regions in Mexico, Malaysia, New Zealand and Thailand.
Dual Run and Migration Center
Dual Run is a new mainframe modernization solution that simplifies and reduces risk of enterprises' migrations of legacy mainframe systems to the cloud. It enables parallel processing, so customers can make a digital copy of their mainframe systems and run it simultaneously on Google Cloud without affecting their core business or negatively impacting end-user experience. Migration Center brings assessment, planning, migration, and modernization tooling together in one location so organisations can proceed faster through their journey.
Software Delivery Shield
New Software Delivery Shield provides an end-to-end solution for developers to tackle the complicated supply chain security challenge. The new offering is based on the best-practices built in the past decades securing software supply chains at parent company Google.
It is a fully managed software supply chain security solution that offers a modular set of capabilities to equip developers, DevOps, and security teams with the tools they need to build secure cloud applications.
Software Delivery Shield includes capabilities across five different areas to address security concerns along the software supply chain: application development, software supply, continuous integration, and continuous delivery, production environments, and policies.
Confidential Space
Confidential Space allows organisations to perform tasks such as joint data analysis and machine learning (ML) model training with guarantees that the data they own can stay protected from their partners — including the cloud service provider.
Whether it is a clinical researcher sharing results or a bank looking at risk management in different parts of the world, Confidential Space helps customers collaborate using sensitive or regulated data securely across teams, organisations, and borders.
Google Cloud Ready - Sovereign Cloud
This new program for partners and customers advances digital sovereignty on Europe's terms, to address growing demand for cloud solutions with the highest levels of control, transparency, and sovereignty. This will be appreciated by financial institutions, SaaS and many others.
Vertex AI Vision
Vertex AI Vision is a new end-to-end application development environment that will allow users to easily build and deploy computer vision applications to understand and utilize the data. It extends the capabilities of Vertex AI - to be more accessible to data practitioners and developers. The new end-to-end application development environment will help companies ingest, analyze, and store visual data. Vertex AI Vision provides a drag-and-drop interface and a library of pre-trained ML models for common tasks such as occupancy counting, product recognition, and object detection.
Translation Hub - An enterprise-scale translation AI Agent
Organisations can now cost effectively localise content in more than 135 languages with Translation Hub, our new enterprise-scale translation AI Agent for self-serve document translation.
Looker Studio and Looker Studio Pro
Google Cloud unified two popular business intelligence tools, Looker and Google Data Studio, under the Looker umbrella to create a deep integration of Looker, Data Studio, and core Google technologies like AI and ML. This will help every self-service analyst infuse their workflows and applications with the intelligence needed to make data-driven decisions. We're also introducing a professional version, Looker Studio Pro, that provides organisations support and key governance capabilities.
Partnership with Coinbase and the future of the Web3 ecosystem
Google Cloud helps Web3 founders and developers with scalability, reliability, security, and data, so they can spend the bulk of their time on innovation. So they announced a new partnership with Coinbase, who has selected Google Cloud to build advanced exchange and data services. Google Cloud will also enable select customers to pay for cloud services via select cryptocurrencies by using Coinbase Commerce. This news builds on recent Web3 announcements with Nansen, BNB Chain, Sky Mavis and NEAR Protocol.
Delivery Readiness Index for partners
Targeting us - Google Cloud channel partners, Google Cloud created a new Delivery Readiness Index (DRI) program to ensure partners have all the expertise and experience needed to successfully complete a customer project. If a partner doesn't have all skills necessary for a project, Google Cloud will provide additional training and enablement.
And that is pretty much it. Oh no, there is more! They announced 123 things at Google Cloud Next '22, so reserve some time for reading.
You can reply all sessions on Youtube or check the official Google Cloud Blog to pick the most important sessions based on your focus and interest.
Google has always signaled that it is the most flexible cloud, empowering customers to build applications and analyze data across different environments in the most sustainable way. The announcements at Google Cloud Next 2022 confirm the company's reputation for flexibility and simplicity as they continues to push across all important dimensions. Revolgy is excited to partner with Google Cloud in helping our customers leverage all possibilities to solve new challenges in the cloud.
Let us know if you have any questions or need detailed information, we are here to help you navigate in the cloud.