Get started with Duet AI for Google Workspace

Jana Brnakova
September 21, 2023
Duet AI for Workspace is a new AI assistant that helps you to be more productive and efficient in your work. It's your always-on collaborator that embeds the power of generative AI across Google Workspace.
It is available as an add-on for Google Workspace Enterprise customers, and it can be used across a range of Google Workspace apps, including Docs, Sheets, Slides, Gmail, and Meet.
Duet AI can help you with a variety of tasks, such as writing, visualizing, research, organizing, collaboration, and much more. Let's find out below what Duet AI can bring to you and your team.
How much does Duet AI for Workspace cost?
Duet AI for Workspace is not free; however, Google currently offers a 14-day trial at no cost. Once the trial ends, the add-on is available for a paid monthly subscription of $30 per user.
How to activate Duet AI for Workspace users?
As an administrator, you can enable the free trial in the Admin Console. Under the Billing tab, choose Subscriptions and click the "Add or upgrade a subscription" on the screen. Click on "Start free trial" under Duet AI in Google Workspace add-ons and follow the steps to guide you through the process.
Once you complete the setup, you'll need to assign the licenses to users. Under Users, first click the checkboxes to select the users and then Assign licenses above this list. Click Assign. Now your users can start using Duet AI in Workspace apps that support it.
How to use Duet AI
The different Duet AI features can be found all across Google Workspace.
Gmail & Docs
Let's start with the "Help me write" feature for Gmail and Docs. When composing an email reply, you can write a prompt about what it is you're trying to create, and you'll immediately get a suggestion from Duet AI, even pulling in information from the previous emails in your reply.
The feature works similarly in Docs. Just type in your prompt, and Duet AI will create the content for you. It'll even include features like smart chips with information such as location, status, and custom variables.
Sheets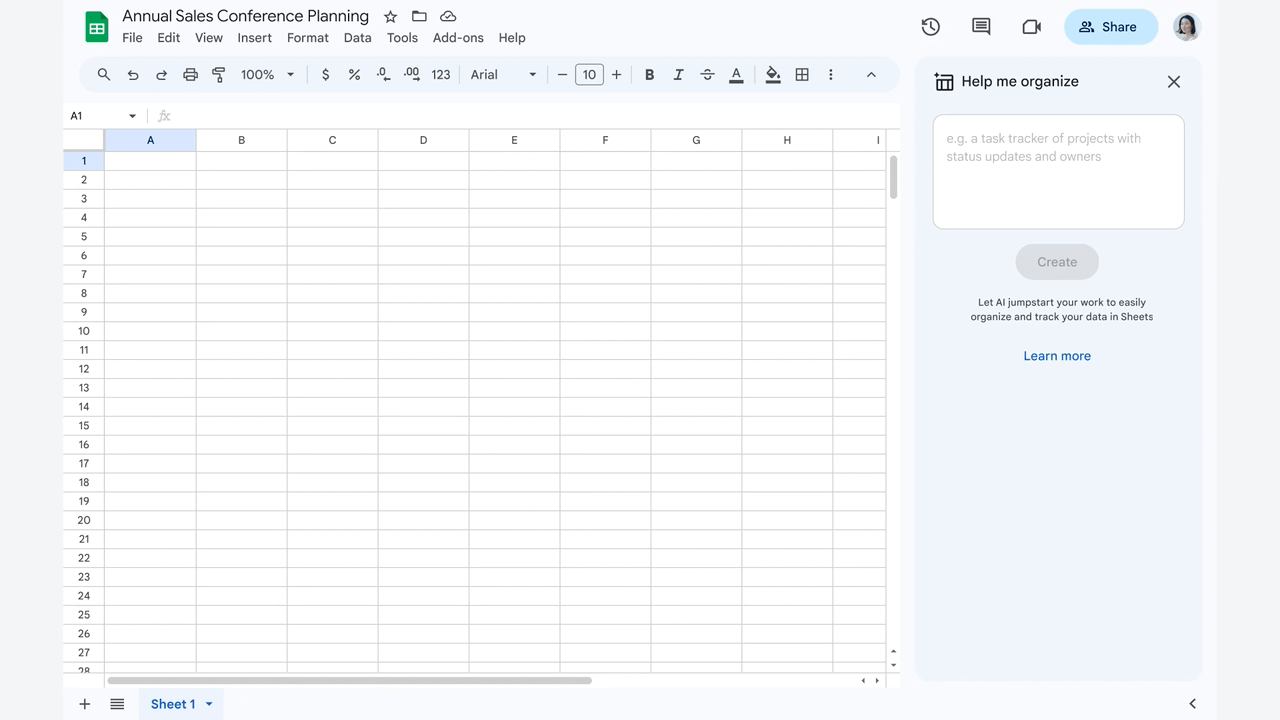 Over in Sheets, you'll find the "Help me organize" feature. Based on your prompt, in just seconds, Duet AI will generate a spreadsheet that helps you get organized, without having to format it or add any data yourself. It can also create a tracker and suggest timetables, descriptions, and other variables.
This feature dramatically increases the speed of making spreadsheets without manual input and frees you up for other tasks.
Slides
Need to create an image for your presentation? Prompt Slides, and it'll generate multiple image options for you right inside Slides that you can choose from and refine.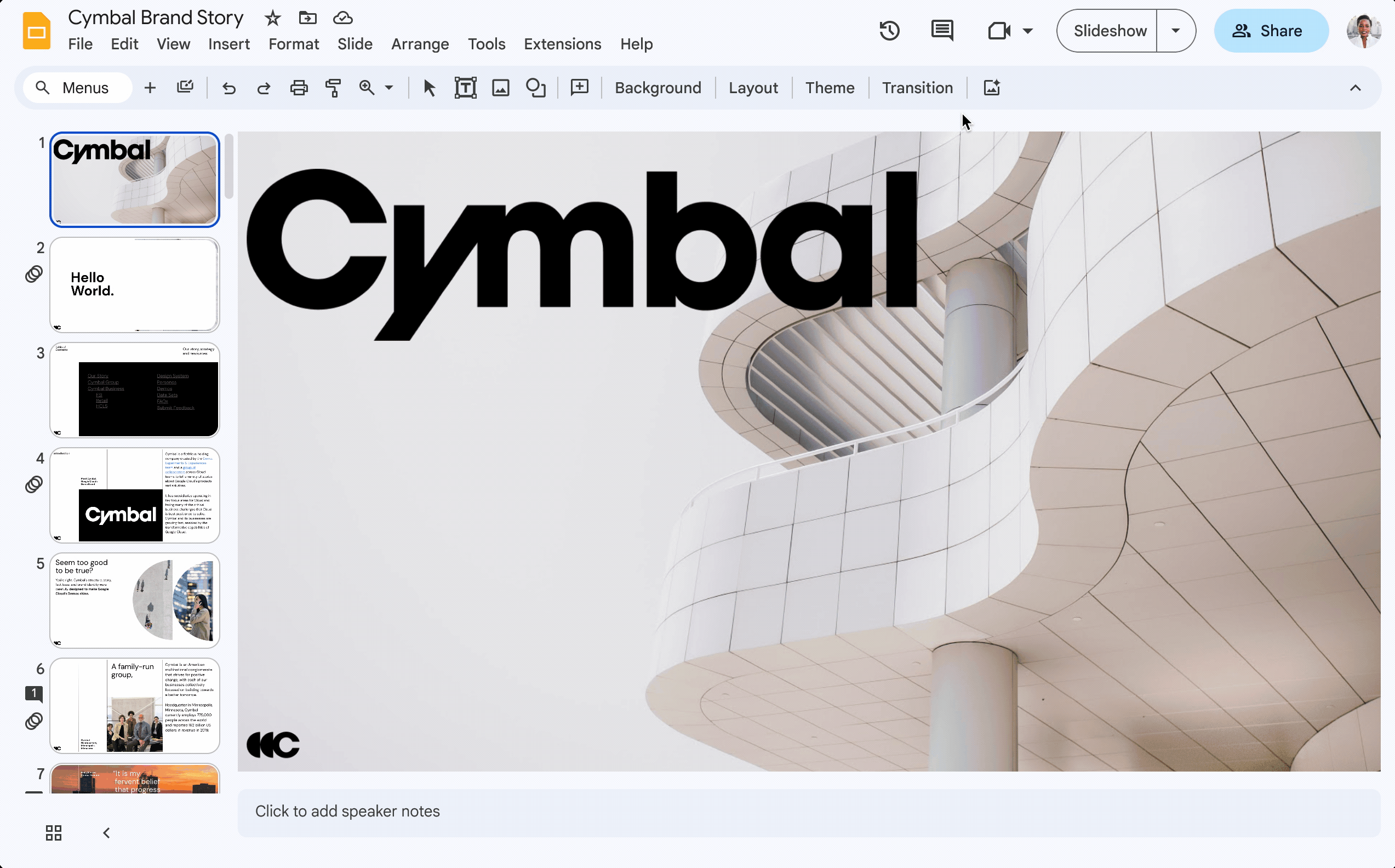 To access this feature, you have two options:
Click Insert > Image > Help me visualize.
In the toolbar, click Help me visualize.
Find more information about Slides here.
Meet
With "Help me connect" for Meet, you can use custom backgrounds to reflect your personality and interests. Duet Ai can also provide you with a studio look, studio lighting, and studio sound by enhancing the quality of images and audio experience.
Meet will soon be able to automatically translate captions into 18 languages, so you can follow along with video calls even if you don't speak the language being spoken.
It'll soon be able to capture notes, action items, and video snippets in real time, and it can send a summary to attendees after the meeting. It can even help latecomers to get up to speed with a quick snapshot of what they've missed.
If you can't make a meeting, you'll be able to use Duet AI to attend for you and deliver your message. Duet AI will also make sure that you get the recap of the meeting afterwards.
When you need to have a quick conversation with your team, you can use huddles in Chat. Huddles are audio-first, impromptu gatherings that are powered by Meet. This means that you can start a huddle right from the Chat conversation where you're already collaborating, without having to switch to a separate meeting app.
Conclusion
Generative AI has the potential to revolutionize the way we work, learn, and create. Duet AI for Workspace can help you be more productive and efficient in your work. And with a free trial from Google, anyone can try it out for free.
Duet AI is still under development with new features being introduced regularly, but it is already a powerful tool that can help you to be more productive and efficient in your work.
Need help setting up your Google Workspace environment? Contact us for a free consultation.