Google Cloud Next '23 highlights and announcements

Revolgy
September 14, 2023
Google Cloud Next, one of our favorite events of the year, recently took place in San Francisco. The event featured keynotes from Google's top management, 161 announcements, and thousands of attendees. It was truly a highlight of the year — so you can imagine how excited our team was to participate in the three-day event and now share the most exciting highlights and announcements with you.
"I was pleasantly surprised by how well-organized the event was, and even with thousands of people attending, everything was running smoothly across the three days. I enjoyed seeing Google Cloud's tech applied in different areas across different markets and its impact on users. For example, one of my favorites was swinging a bat in Major League Baseball." — Michal Bém, Account Manager Revolgy
Generative AI was a major focus throughout the event, with many new offerings across Vertex AI and Duet AI. Other key themes included sustainability, analytics, and data.
The topic of artificial intelligence likewise dominated the opening keynote from Google CEO Sundar Pichai, discussing how to make their AI technologies more useful and responsible, followed by Google Cloud CEO Thomas Kurian and his take on how customers are using Google's AI, infrastructure, and tools to transform their businesses and deliver new experiences to customers.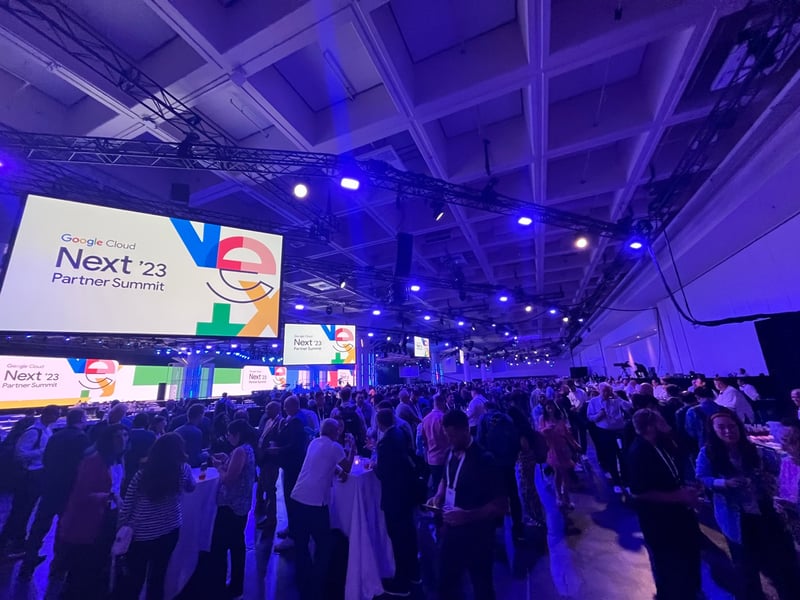 Artificial intelligence at the forefront of innovation
If we were to sum up this year's Google Cloud Next, it'd come down to just two letters: AI. Duet AI in Google Workspace has become generally available, and you can sign up for a no-cost trial. Duet AI is a powerful collaboration partner that can act as a coach, source of inspiration, and productivity booster, and it makes collaborating easy and fun.
Further in the Workspace family, Google Cloud announced new controls for zero trust and digital sovereignty and new innovations in Google Chat, including Duet AI in Chat.
Besides the Workspace family, Duet AI is also expanding across Google Cloud and is now in preview with new capabilities and a general availability later in 2023. It can provide assistance across Google Cloud products and services to help with application development, operations, database management and migration, data analysis and visualization, and cybersecurity.
Google Cloud has become the first platform to offer digital watermarking and verification for AI-generated images based on Google DeepMind SynthID. This technology embeds a digital watermark into the image's pixels in a way invisible to the naked eye but detectable by software.
Improvements on Vertex AI
Google Vertex AI is a unified artificial intelligence platform that offers all of Google's cloud services under one roof. Google Cloud is expanding the capabilities of Vertex AI, its unified artificial intelligence platform, with new models and updates to existing models.
Google is adding Meta's Llama 2 and Code Llama, the Technology Innovation Institute's Falcon LLM, and Anthropic's Claude 2 to Model Garden, its catalog of pre-trained models. This gives Google Cloud a curated collection of models across first-party, open-source, and third-party models.
Google is also updating several first-party foundation models, including PaLM, Codey, and Imagen. PaLM is now getting higher quality outputs, a 32,000-token context window, and grounding capabilities for enterprise data. Codey is getting better performance, and Imagen is getting improved image quality.
These and other updates and additions to Vertex AI make it easier for customers to experiment and build with foundation models, customize them with enterprise data, and smoothly integrate and deploy them into applications with built-in privacy, safety features, and responsible AI.
New features and capabilities for data analytics & databases
Google Cloud announced a wide range of new features and capabilities for its core data and data analytics offerings. With data at the center of generative AI, Google Cloud's new innovations in Data and AI Cloud boost the productivity of data teams by reimagining data work with products such as Looker, BigQuery, and Dataplex.
The new BigQuery Studio is a new unified interface for data engineering, analytics, and predictive analysis. The Studio makes building and managing data pipelines, exploring data, and creating machine learning models easy. It also provides enhanced support for unstructured data, cross-cloud analytics, secure data sharing, and governance.
Cross-Cloud Network
The Cross-Cloud Network is an open and programmable global cloud networking platform designed to make it easier for businesses to connect their applications and users across on-prem and clouds, including Google Cloud, Amazon Web Services, Microsoft Azure, and Oracle Cloud Infrastructure.
Focus on sustainability
Alongside this year's focus on artificial intelligence, the Google Maps platform has also introduced a suite of Environment APIs — Solar, Air Quality, and Pollen.
These APIs allow developers to access environmental data, such as solar radiation, air quality, and pollen levels. This data can be used to build applications that help people make informed health, safety, and well-being decisions.
Developer keynote with real-world examples and testimonials
The developer-focused keynote was delivered by Forrest Brazeal, Head of Developer Media at Google Cloud, and Richard Seroter, Director of Outbound Strategy and Enablement at Google Cloud, who discussed the complex challenges Google has faced, especially in handling legacy workloads.
It was followed by real-world examples and testimonials by Google Cloud Champions of how Google Cloud has helped them scale their products and platforms, and improve security.
Revolgy wins 2023 Google Cloud Partner of the Year
Google Cloud recognizes outstanding performance among its partners, both globally and regionally. At this year's Next event, we were awarded the Sales Partner of the Year 2023 for Central and Eastern Europe (CEE).
To be eligible for the award, partners must have met or exceeded specific sales goals, demonstrated a strong commitment to customer success, and consistently delivered high-quality service. Read more about the award here:
Revolgy named prestigious Google Cloud Sales Partner of the Year 2023 for CEE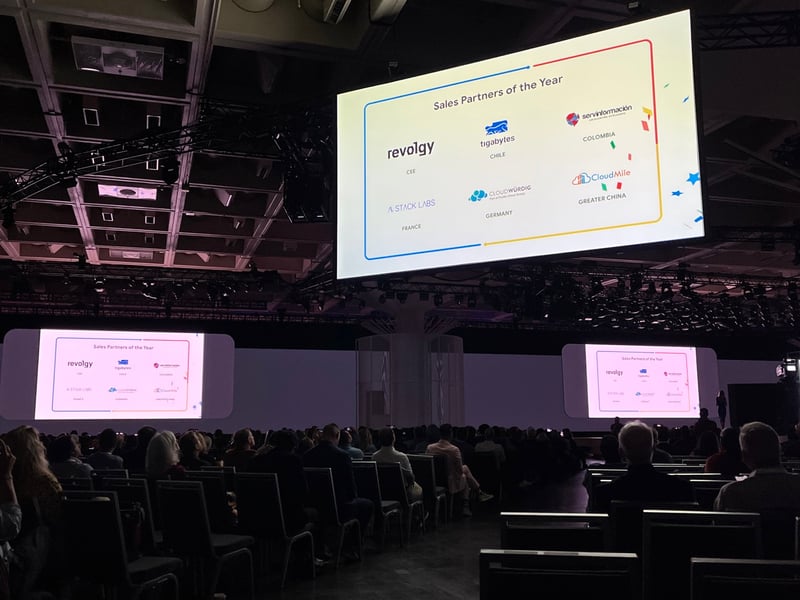 If you're into cloud computing, Google Cloud Next is the place to be. It's a great opportunity to learn about the latest GCP products and services, network with other GCP users, and get hands-on training from Google Cloud experts. But most importantly, here at Revolgy, we want to stay on top of things so we can always deliver the best service and latest tech features for you, our customers.
And what's next? Google Cloud Next '24 will be held on April 9-11, 2024, at the Mandalay Bay Convention Center in Las Vegas, Nevada. As always, the event will feature keynotes, breakout sessions, networking opportunities, social events, and more. See you there!